Invest in the Best Gift for Your Loved Ones this Christmas
Nov 11, 2021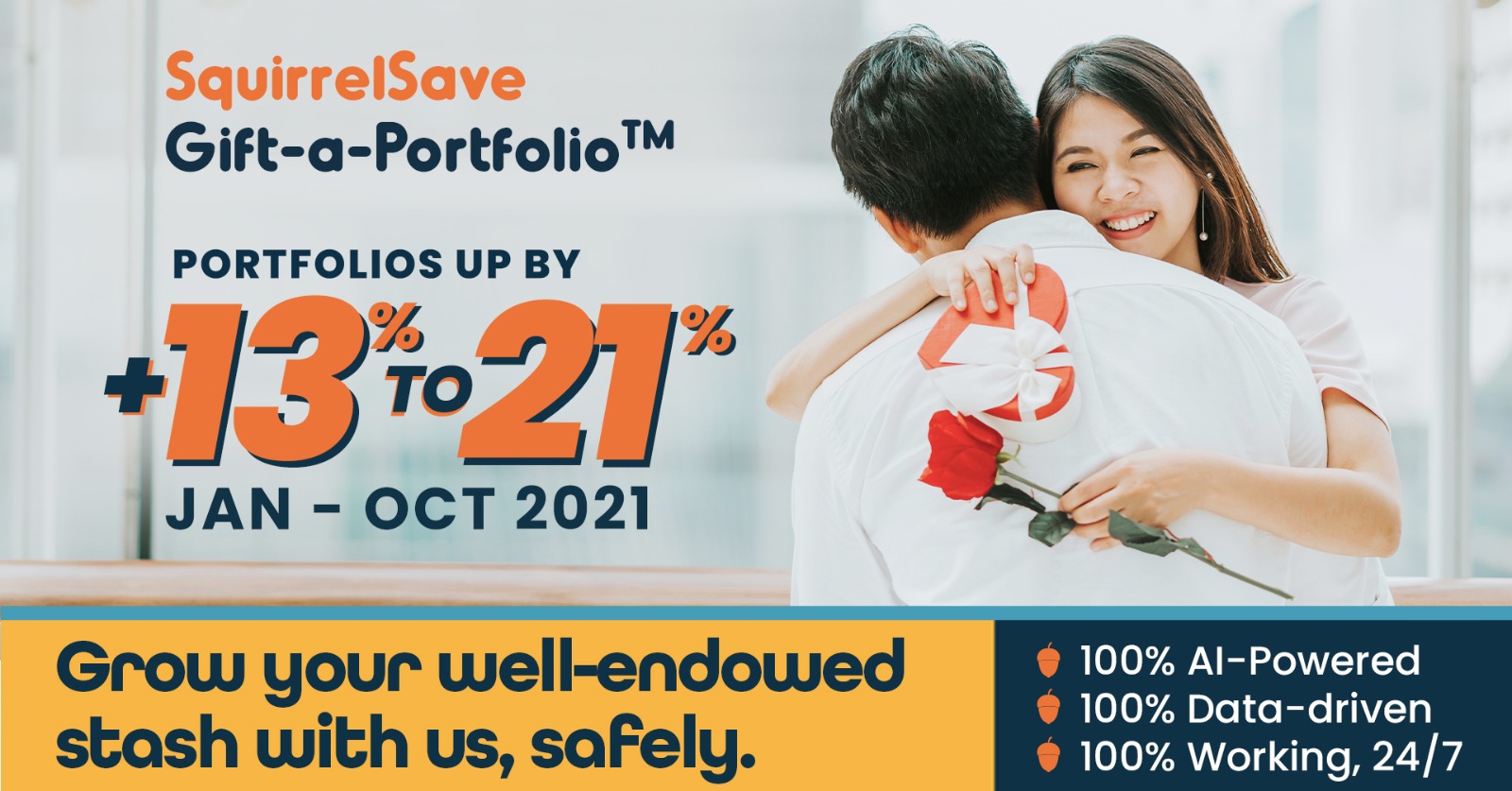 Gifting season is here! Want more meaning & value from your gift spending? Then get SqSave's Gift-a-Portfolio! Ideal for family, loved ones and friends, SqSave Gift-a-Portfolio grows financial security for life.
Give a Meaningful Lifetime Gift
A Christmas survey showed that people plan to reduce gift sending by 43%. With less spending, the challenge is to find meaningful gifts that last a lifetime.
Truth is, most gifts depreciate in value the moment they're unwrapped. This sad truth is repeated every gifting season. Why spend your hard-earned money on gifts that do not last?
For example, 1 in 5 Christmas gifts worth over S$1 billion in the UK are wasted each year – unused, unwanted, exchanged or thrown away.
Most significantly, with reduced income thanks to the COVID-19 pandemic, 40% plan to give investment gifts that will benefit their family and friends in the future. 30% want investment gifts as the pandemic has made them realise the importance of growing their money.
If you gave or received a SqSave Gift-a-Portfolio, it could have grown as much as 20% over 10 months! $100 would have generated extra $20! The same $100 in traditional bank savings would have earned maybe just 15 cents.
Regulated by the Monetary Authority of Singapore (MAS), SqSave is an artificial intelligence investment system, built for institutions and sophisticated investors. SqSave has made Smart Investing available to anyone, anywhere, anytime via web and mobile. Try it out for as low as ONE Dollar! Top-up once you are familiar. Withdraw anytime.
Powered by AI, SqSave's investment performance has beaten the others – based on latest 2021 data.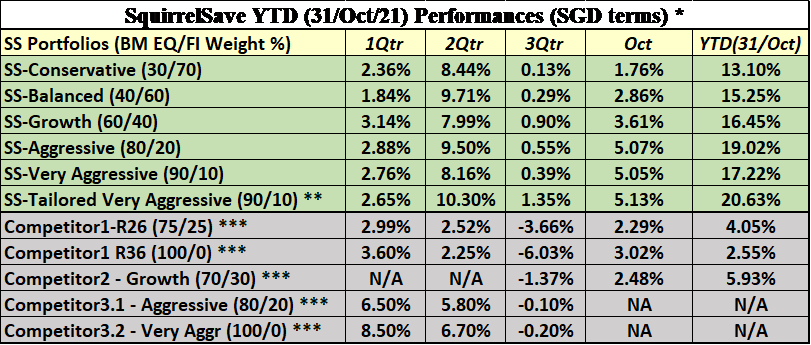 * Figures are inclusive of ETF expense ratios and net of SqSave management fees. SqSave uses AI to design and manage diversified investment portfolios for each investor. Because SqSave is not an investment fund, there is no single return measure. Instead, every SqSave investor has his/her own investment performance as each investor is managed separately by our SqSave AI. As investors can withdraw and top-up any time, investment returns will be affected by individual investor decisions. Hence, SqSave uses reference portfolios which are actual portfolios managed on an ongoing basis, without any interference with withdrawals or top-ups, to measure investment performance.
** Single portfolio investment amount more than SGD15,000
*** Performance numbers for competitors are estimates.
As always, past performance is not indicative of the future, and all investments are risky. That's why SqSave uses AI 24/7 to manage investment risks. That's our own technology made available to everyone. Now you can experience and share it via SqSave's Gift-a-Portfolio.
SqSave's Gift-a-Portfolio: A Gift that Grows for Life
Don't underestimate the power of small financial gifts! A simple shift in how (and what) you spend on gifting makes a big difference. Even the humblest of sums can grow into a mighty szie with the power of compounding. Just imagine how the amount you spend on a doll's house for your kids could become a downpayment for their new home in years to come. So, the Christmas gift you decide throughout the next decade will make a difference!
What's more, with SqSave's Gift-a-Portfolio, you're being more eco-friendly by reducing travel time, crowds, wrapping and unwanted gifts. All you need is a few mouse clicks from wherever you are to make a difference of a lifetime for your loved ones and friends.
How It Works
All it takes to start is as low as ONE Dollar! But with SqSave's investment performance so far, it will be good to invest what you can afford. At SqSave, you and your Gift-a-Portfolio recipients will get a well-diversified investment portfolio.
You will get your own personal portfolio managed by SqSave's proprietary AI-driven algorithms that work 24/7 to target highest possible returns based on your chosen portfolio risk setting. No need for any investment knowledge. SqSave AI does the heavy lifting for you.
For Christmas, SqSave is gifting $10 investment portfolios** to 100 lucky Gift-a-Portfolio Challenge winners!
Simply visit this Facebook post and answer: "What is the minimum amount to invest in SqSave's Gift-a-Portfolio?"
Remember to 'Like' SqSave's Facebook, 'Share' the post and 'Tag' 3 friends to be eligible!
This Gift-a-Portfolio Challenge ends on 24 November 2021 at 2359.
**Terms and conditions apply
Disclaimer
The contents herein are intended for informational purposes only and do not constitute an offer to sell or the solicitation of any offer to buy or sell any securities to any person in any jurisdiction. No reliance should be placed on the information or opinions herein or accuracy or completeness, for any purpose whatsoever. No representation, warranty or undertaking, express or implied, is given as to the information or opinions herein or accuracy or completeness, and no liability is accepted as to the foregoing. Past performance is not necessarily indicative of future results. All investments carry risk and all investment decisions of an individual remain the responsibility of that individual. All investors are advised to fully understand all risks associated with any kind of investing they choose to do. Hypothetical or simulated performance is not indicative of future results. Unless specifically noted otherwise, all return examples provided in our websites and publications are based on hypothetical or simulated investing. We make no representations or warranties that any investor will, or is likely to, achieve profits similar to those shown, because hypothetical or simulated performance is not necessarily indicative of future results.
More Articles more