Promotion

SqSave Christmas Promotion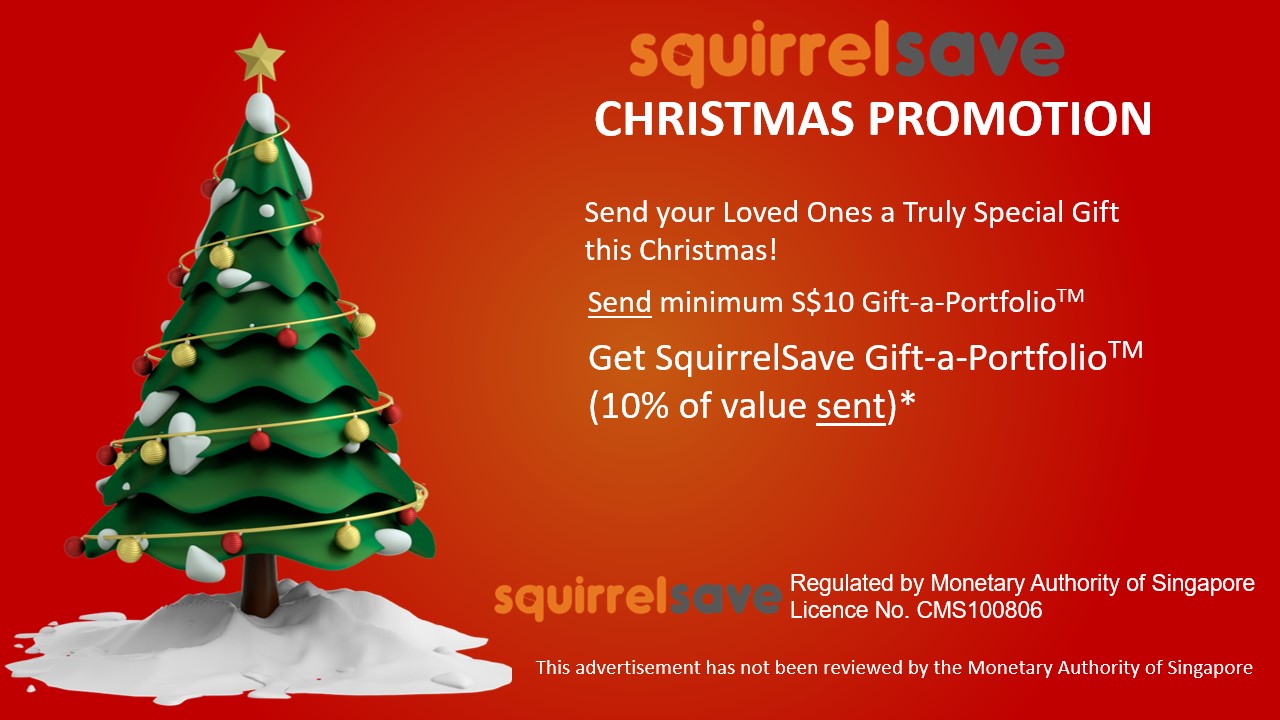 Click here to sign-up for account
*Terms & Conditions Apply
From 5th Dec 2022 to 1st Jan 2023 ("Promotion Period"), all new and existing SqSave clients are eligible to participate in this Promotion each weekly period from Monday to Sunday at 23:59 ("Weekly Period").
The first 200 clients weekly who send a Gift-a-PortfolioTM valued between S$10 to S$100 during a Weekly Period to a another new or existing SqSave client may be entitled to receive a SqSave Gift-a-PortfolioTM worth 10% (e.g. from minimum S$1 up to maximum S$10) of the client's Gift-a-PortfolioTM value that was sent.
SqSave Gift-a-PortfolioTM amounts will be sent via email to all eligible Gift-a-PortfolioTM senders to claim after each Weekly Period. To be eligible to receive a Gift-a-PortfolioTM, the client's recipient must accept their Gift-a-PortfolioTM within 14-days after the receipt date.
If a minimum S$10 Gift-a-PortfolioTM that is sent by a client is not accepted by the recipient before the expiry date (14-days after receipt date), the Gift-a-PortfolioTM sender may opt to re-send a new S$10 or higher value Gift-a-PortfolioTM to the same or another recipient within the Promotion Period.
Each Gift-a-PortfolioTM reward to client senders for claiming will have a minimum 6-month lock-in period, and a default assigned Growth Risk Profile.
Each client may send a maximum of two S$10 or higher value Gift-a-PortfolioTM during each Weekly Period, to be potentially eligible to receive a Gift-a-PortfolioTM (as noted in clause 2 above) from SqSave.
Non-SqSave clients who wish to participate in this Promotion may sign-up for an account at www.sqsave.com . After successful account approval, simply transfer S$10 or more to your account's SquirrelCash balance*. Then send at least S$10 value Gift-a-PortfolioTM (automatically deducted from available SquirrelCash) to your friend or loved one during one of the Weekly Periods for potential eligibility to receive a Gift-a-PortfolioTM. reward from SqSave.
All clients must confirm their acceptance of the SqSave Gift-a-PortfolioTM and meet all relevant regulatory and compliance conditions as outlined in the SqSave Account Opening Agreement.
Click this link to understand more about Gift-a-PortfolioTM.
*Note: See below for more details on how to deposit to your account's SquirrelCash balance:
Create a Goal (if not already created), by clicking [+ADD INVESTMENT GOAL] and follow instructions.
Click created Goal expand icon (bottom right of Goal box), then click [+Deposit] to see SqSave Account Number (e.g.

8607XXXXXXX

) to copy to your online bank new payee page.
Login to your online bank account, click Transfer and add New Payee, then paste in your orange SqSave Account Number from step (ii) above.
After setting up SqSave Account as new payee, transfer an amount, but leave Comments field blank. Deposit will be automatically added to SquirrelCash.