SQSAVE RESILIENCE IN THE FACE OF MARKET TURBULENCE
4 October 2023
This year has been a rollercoaster for global markets. But even in the face of challenges, SqSave continues to stand out with our proven strategy and steady performance. Let's delve into our performance for September 2023.
September Hurdles Overcome
September has historically been a tough month for US markets, and this year was no exception. It was the worst month for the US market Year-to-Date (YTD). Despite this, we at SqSave are pleased to announce that we have not only weathered the storm but also continued to outperform both our benchmarks and competitors YTD.
SqSave Reference Portfolios Returns Summary (SGD terms as at 30 September 2023)*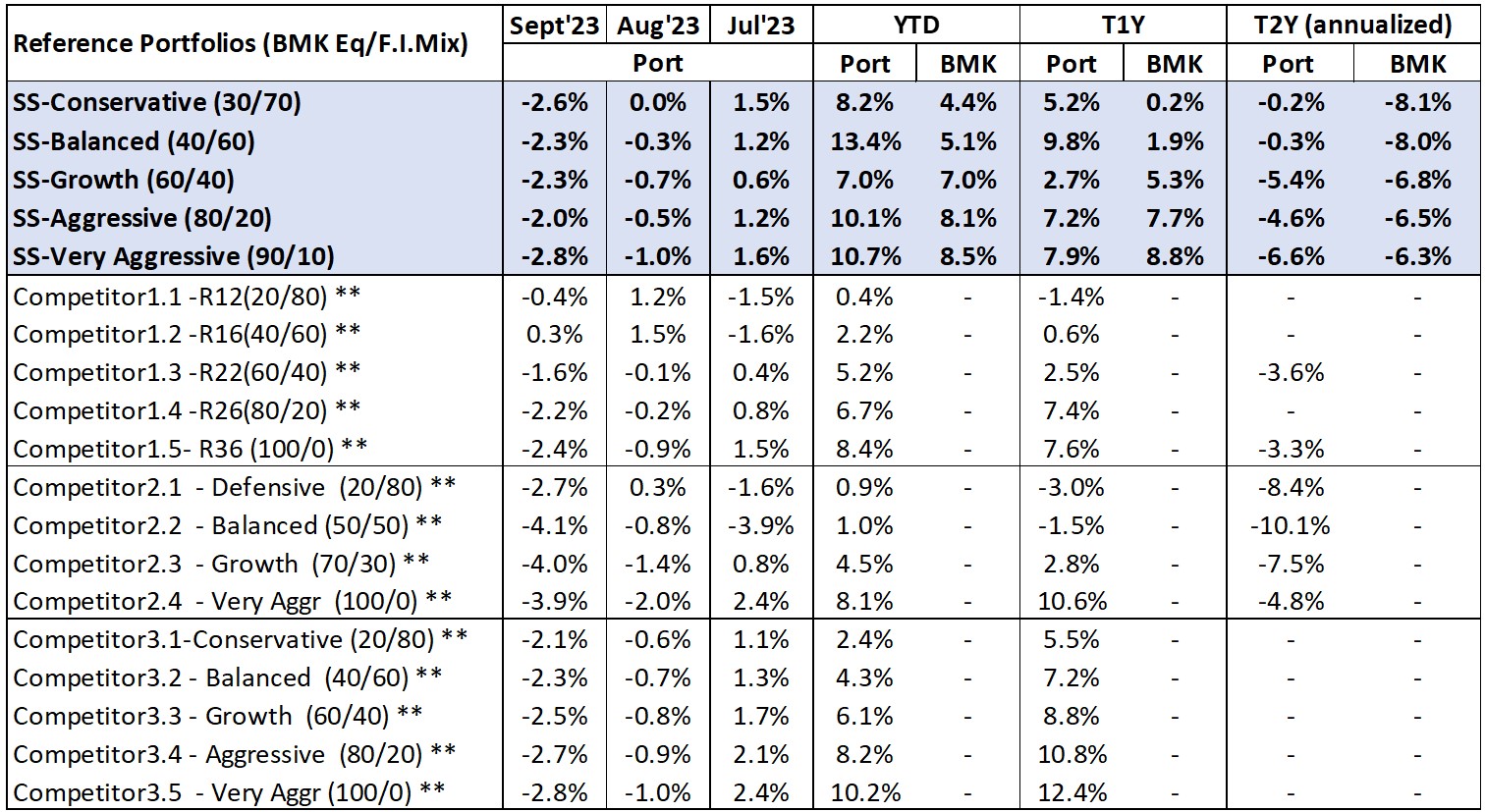 *Inclusive of ETF expense ratios and net of SqSave management fees. SqSave uses AI to design and manage diversified investment portfolios for each investor. Because SqSave is not an investment fund, there is no single return measure. Instead, every SqSave investor has his/her own investment performance as each investor is managed separately by our SqSave AI. As investors can withdraw and top-up any time, investment returns will be affected by individual investor decisions. Hence, SqSave uses reference portfolios which are actual portfolios managed on an ongoing basis, without any interference with withdrawals or top-ups, to measure investment performance. ** Performance numbers for competitors are estimates. Abbreviations: BMK: Benchmark; Ret: Return, T2Y: Annualized Time Weighted Return
Key Takeaways:
9 months to 30 September 2023 (YTD): Even with the challenges faced in September, our resilience shines through. While the US market had its worst month, our portfolios still managed to outperform our benchmarks and competitors YTD. Our consistency in performance underlines the strength of our strategies and expertise.
Trailing One Year (T1Y): Our portfolios reflect our commitment to steady growth and risk management. While our low-risk portfolios excelled by beating both benchmarks and competitors, our high-risk portfolios faced challenges yet generally performed commendably in the broader landscape.
Trailing Two Year (T2Y): The majority of SqSave reference portfolios have either matched or outperformed their respective benchmarks, highlighting our consistency in delivering results.
Your Trusted Partner in Navigating Volatile Waters
As always, SqSave isn't just about numbers. It's about trust, reliability, and a shared vision of financial growth. Our team is constantly analyzing market movements and calibrating our strategies, so you don't have to. We understand that investing is a long-term journey, and while there might be hurdles along the way, our mission is to navigate them with you, side by side.
Take the Next Step with SqSave
If you haven't already invested with SqSave, there's no better time than now. Whether you're eyeing retirement, buying that dream home, or seeking financial growth, SqSave has the track record and expertise to guide you every step of the way.
Reach out today, and let's embark on a journey toward greater financial success together.
Yours sincerely
SqSave Investment Team
Disclaimer
The contents herein are intended for informational purposes only and do not constitute an offer to sell or the solicitation of any offer to buy or sell any securities to any person in any jurisdiction. No reliance should be placed on the information or opinions herein or accuracy or completeness, for any purpose whatsoever. No representation, warranty or undertaking, express or implied, is given as to the information or opinions herein or accuracy or completeness, and no liability is accepted as to the foregoing. Past performance is not necessarily indicative of future results. All investments carry risk and all investment decisions of an individual remain the responsibility of that individual. All investors are advised to fully understand all risks associated with any kind of investing they choose to do. Hypothetical or simulated performance is not indicative of future results. Unless specifically noted otherwise, all return examples provided in our websites and publications are based on hypothetical or simulated investing. We make no representations or warranties that any investor will, or is likely to, achieve profits similar to those shown, because hypothetical or simulated performance is not necessarily indicative of future results.
More Articles more