Robust SqSave Performance Since 2023
5 May 2023
Market outlook
The Federal Reserve ("Fed") on Wednesday announced its tenth consecutive interest rate rise, raising federal funds rate to a range of 5 to 5.25%, and has signalled that it is close to pausing interest rate hikes. We feel this is driven by two opposing forces. Core inflation remains high, and the job market is still resilient (from wage increases). However, there are indications of economic slowdown as the effects of elevated rates slowly materialize. For instance, the pace of US jobs growth continues to slow; and falling fuel demand in the US raised recession fears (and falling oil prices). Overall, we expect central banks to maintain high interest rates as factors contributing to price pressure remain.
There are still concerns on US regional banks. After several high-profile failures recently, the market saw trading halts for two more regional US lenders which may portend to a widening crisis for mid-sized banks. While there are many underlying reasons for the failure of this segment, rapid and sustained rise in rates, which impaired assets and drained deposits (a situation made worse after SVB's failure) is a key contributing factor. Furthermore, while individual mid-sized banks do not pose systemic risk, a domino of mid-sized bank failures may threaten the stability of the banking and financial systems.
At the same time, the US government is engaged in high-stakes political battle over the Debt Limit. The US officially hit its limit on 19 January, and Treasury Secretary Janet Yellen has warned that the US could run out of cash by June if the borrowing cap is not raised or suspended. As negotiations continue in Congress, uncertainty over this issue and its eventual resolution is likely to inject more volatility into the market in the short term.
Given the backdrop of sustained interest rates, threat of looming economic slowdown, geopolitical complications, as well as recent events mentioned above, we maintain our view that volatility will remain elevated over the near- to mid-term.
SqSave portfolios continues strong mid- to long-term performance
Measured against benchmarks and our peers, SqSave portfolios, which are built from our revised algorithm at the beginning of the year, continues to perform well.
SqSave Reference Portfolios Returns (SGD terms as at 30 April 2023)*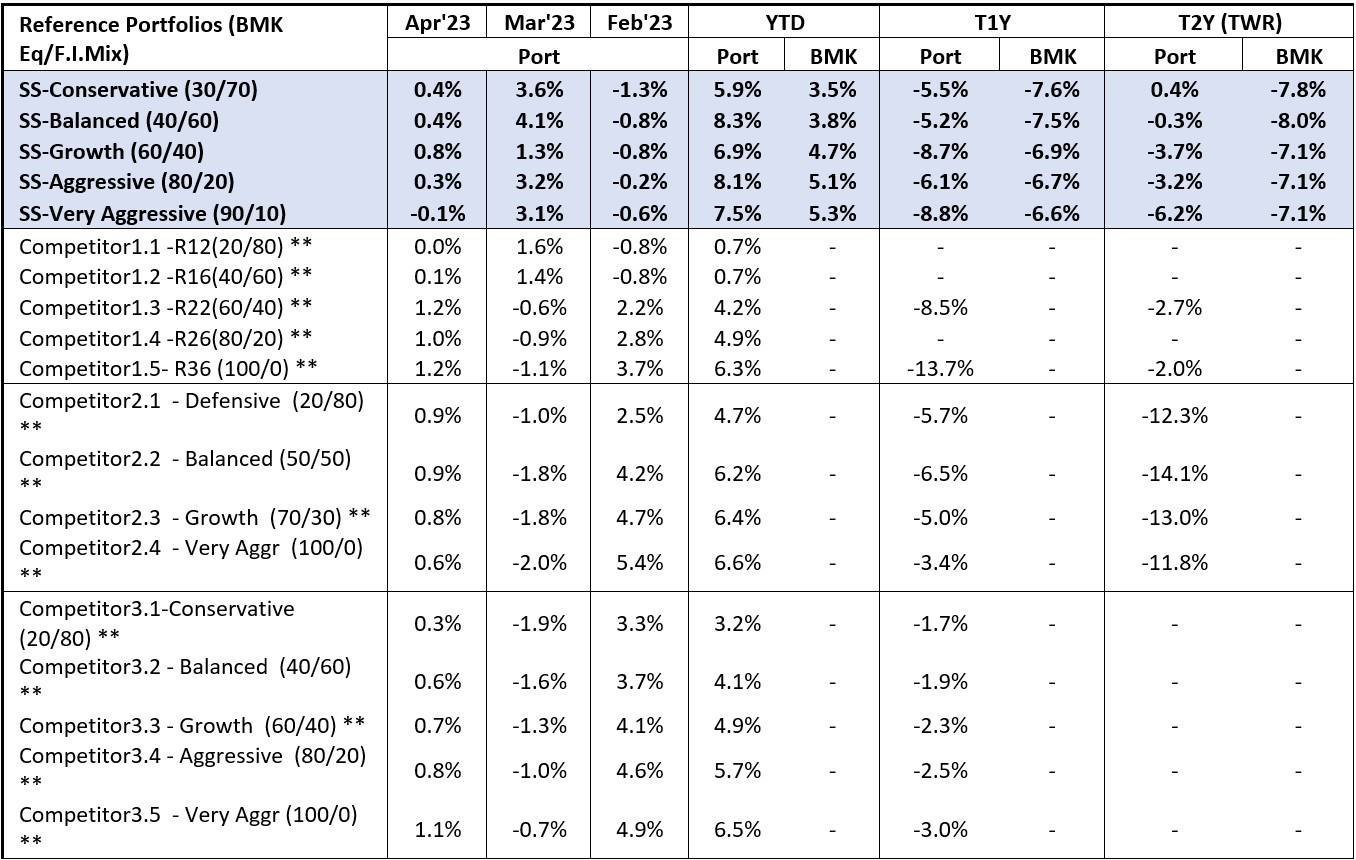 *Inclusive of ETF expense ratios and net of SqSave management fees. SqSave uses AI to design and manage diversified investment portfolios for each investor. Because SqSave is not an investment fund, there is no single return measure. Instead, every SqSave investor has his/her own investment performance as each investor is managed separately by our SqSave AI. As investors can withdraw and top-up any time, investment returns will be affected by individual investor decisions. Hence, SqSave uses reference portfolios which are actual portfolios managed on an ongoing basis, without any interference with withdrawals or top-ups, to measure investment performance. ** Performance numbers for competitors are estimates. Abbreviations: BMK: Benchmark; Ret: Return, TWR: Time Weighted Return.
Notable takeaways from the April performance updates are highlighted below:
On a year-to-date 2023 basis, all of our portfolios have beaten their benchmarks and competitors with compelling margins, demonstrating the effectiveness of our revised algorithm over the mid-term.
Over the latest trailing 1Y period, our low-to-mid risk portfolios have beaten their respective benchmarks as well as selected comparable competitors' portfolios (based on available data).
Over the longer term, on at trailing 2Y basis, all our reference portfolios outperformed benchmark and competitors.
We are focused on the medium- to longer-term investment timeline, and will continue to monitor the portfolio performance, algorithm and market conditions.
Yours sincerely
SqSave Investment Team
Disclaimer
The contents herein are intended for informational purposes only and do not constitute an offer to sell or the solicitation of any offer to buy or sell any securities to any person in any jurisdiction. No reliance should be placed on the information or opinions herein or accuracy or completeness, for any purpose whatsoever. No representation, warranty or undertaking, express or implied, is given as to the information or opinions herein or accuracy or completeness, and no liability is accepted as to the foregoing. Past performance is not necessarily indicative of future results. All investments carry risk and all investment decisions of an individual remain the responsibility of that individual. All investors are advised to fully understand all risks associated with any kind of investing they choose to do. Hypothetical or simulated performance is not indicative of future results. Unless specifically noted otherwise, all return examples provided in our websites and publications are based on hypothetical or simulated investing. We make no representations or warranties that any investor will, or is likely to, achieve profits similar to those shown, because hypothetical or simulated performance is not necessarily indicative of future results.
More Articles more