During this Heightened Market Volatility, a Disciplined AI-Quant driven Approach is Better
13 June 2022
Our Lower Risk Reference Portfolios doing relatively well
The month of May is a sea of red for investing. This follows a "brutal April". Almost everyone and everything is down, except inflation of course!
This is even more significant given how April 2022 was the worst investment performance for US markets since March 2020!
Notwithstanding, our lower risk reference portfolios which we track continuously are beating their respective benchmarks. They are also doing relatively better than the competitors.
However, our higher risk reference portfolios are lagging behind as volatility remains heightened on the downside. We are not surprised by this as our AI-Quant design allows for more exposure to risk – for the higher risk reference portfolios.
On a 1-year trailing basis, all our portfolios beat their respective benchmarks, and are mostly outperforming the competition.
Based on our evaluation, our machine learning engine is performing well given the insights it has generated. An example of how our machine learning AI works is reviewed in our 12 Feb 2022 blog, "SqSave AI seems to know something's happening".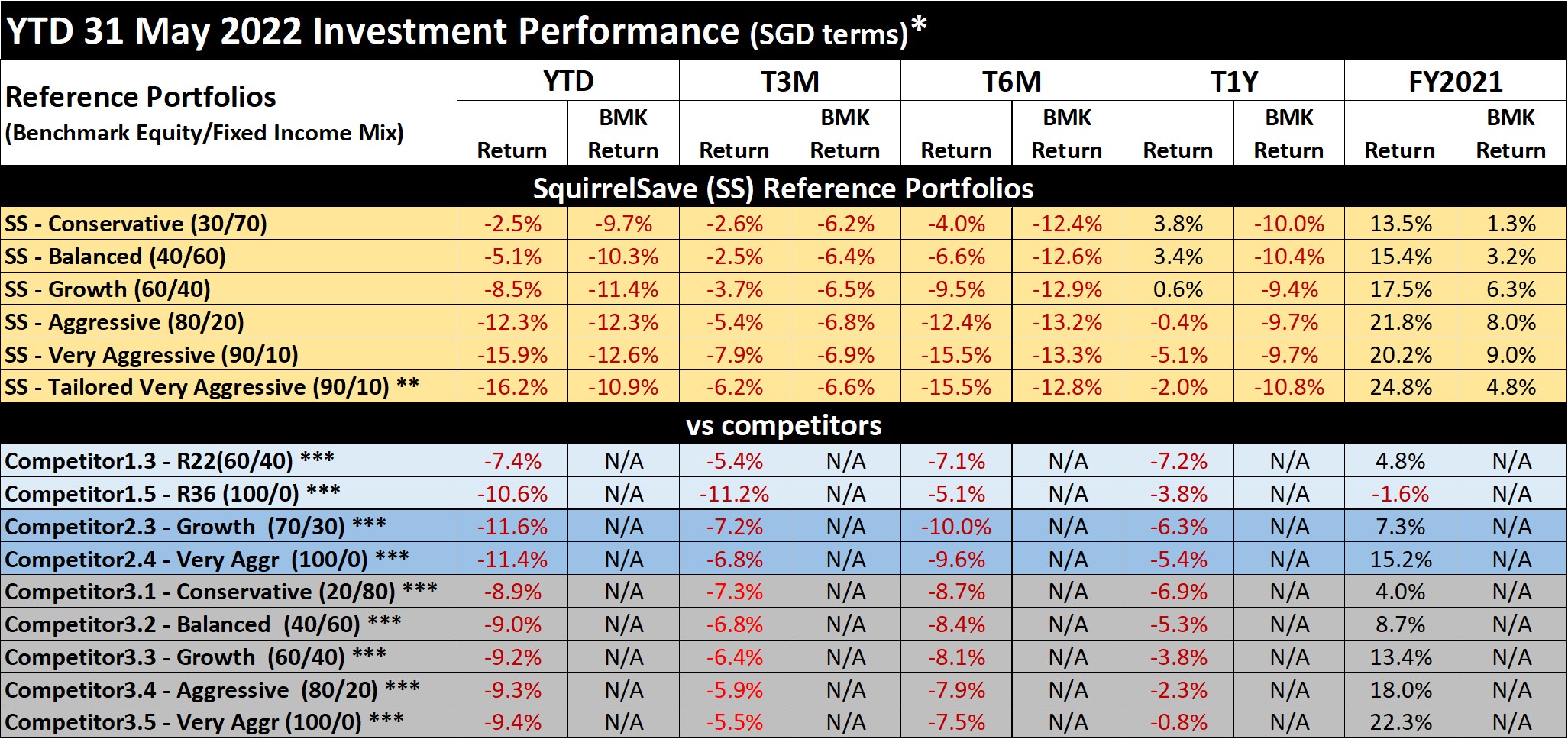 * Inclusive of ETF expense ratios and net of SqSave management fees. SqSave uses AI to design and manage diversified investment portfolios for each investor. Because SqSave is not an investment fund, there is no single return measure. Instead, every SqSave investor has his/her own investment performance as each investor is managed separately by our SqSave AI. As investors can withdraw and top-up any time, investment returns will be affected by individual investor decisions. Hence, SqSave uses reference portfolios which are actual portfolios managed on an ongoing basis, without any interference with withdrawals or top-ups, to measure investment performance.
** Single portfolio investment amount more than SGD15,000
*** Performance numbers for competitors are estimates. Abbreviations: BMK: Benchmark; EQ: Equity; FI: Fixed Income; Ret: Return; Vol: Volatility; MDD: Maximum Drawdown
Focus on the Medium to Longer-Term which is Appropriate for Investing
As we explained in our 3 Mar 2022 blog, "Insights Into SqSave AI's Dynamic Asset Allocation", we focus on the medium to longer-term investment time horizon. Our machine learning algorithms are not meant to trade the market ups and downs in the short term.
Looking forward, we are watching how market volatility will change if interest rate changes are more than expected given the high monthly inflation numbers so far.
Investment markets struggled in May. April's volatility spilled into May with a vengeance as major indices hit new 52-week lows before making a final week recovery.
The S&P 500 declined 8.8% in April and ended flat in May while the NASDAQ Composite Index fell further to enter a bear market as seen by the 22.8% drop from its January high.
The continued market volatility swinging from risk-off to risk-on, and then back again, is likely to persist with inflation concerns, monetary tightening, pandemic supply chain disruptions and geopolitical tensions.
Even crypto assets have not been spared. Bitcoin lost nearly 26% in May before rallying back to close out down 17.5%. Bitcoin is down over 50% since its November all-time highs.
Investment Lessons to Share
In this current investment environment, we remain confident that our AI-quantitative approach will perform better than our emotional human approach. See our blog "Why Replace the Human Investment Manager?" on why emotions do not help especially when markets are volatile.
As a test, pinch yourself and ask if you feel nervous in these recent months about the heightened market volatility. We know the answer for most investors.
The key to our AI-Quant design is for investors to choose the level of risk exposure they prefer. Read and share our blog "Psst! Are you investing, gambling or speculating?" which explains risk taking and what investing is really about.
Fret not, as our SqSave portfolios are not meant for short-term trading. Our AI-Quant methods remain focused on risk management for the medium to longer term. Hence, given the continued market uncertainty, we advise clients and investors to:
Remove emotions when investing
Select a suitable risk profile
Commit to an investment time horizon of at least one year
Rest assured, our team remains vigilant and continues to upgrade our data insights.
Regards,

Victor Lye BBM CFA CFP®
Founder & CEO / Chief Investment Officer
SqSave Quantitative AI Team
Disclaimer
The contents herein are intended for informational purposes only and do not constitute an offer to sell or the solicitation of any offer to buy or sell any securities to any person in any jurisdiction. No reliance should be placed on the information or opinions herein or accuracy or completeness, for any purpose whatsoever. No representation, warranty or undertaking, express or implied, is given as to the information or opinions herein or accuracy or completeness, and no liability is accepted as to the foregoing. Past performance is not necessarily indicative of future results. All investments carry risk and all investment decisions of an individual remain the responsibility of that individual. All investors are advised to fully understand all risks associated with any kind of investing they choose to do. Hypothetical or simulated performance is not indicative of future results. Unless specifically noted otherwise, all return examples provided in our websites and publications are based on hypothetical or simulated investing. We make no representations or warranties that any investor will, or is likely to, achieve profits similar to those shown, because hypothetical or simulated performance is not necessarily indicative of future results.
More Articles more